Remote Sensing Desertification
Jordan Valley
2018 - ongoing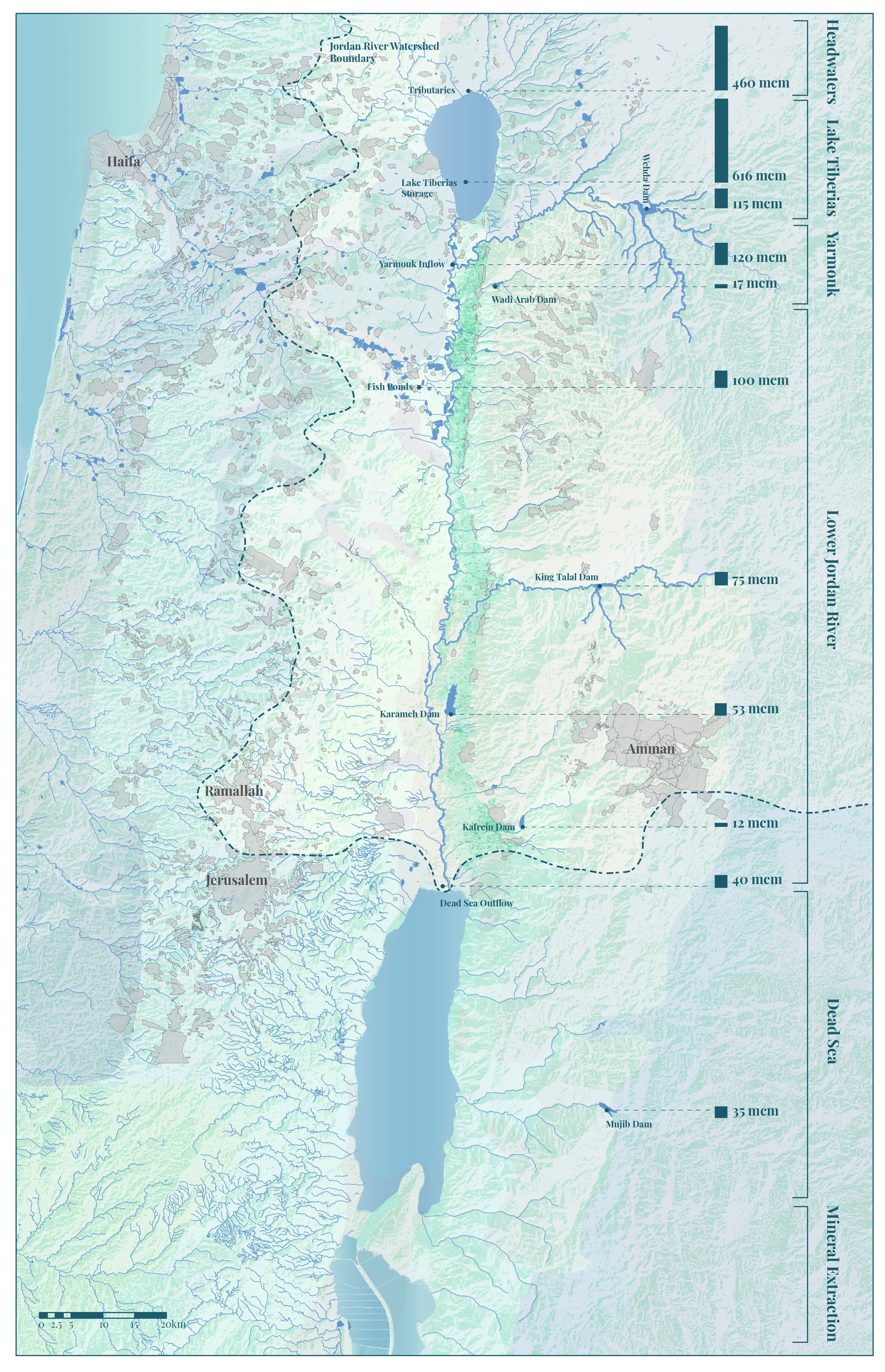 Half a billion people live under conditions of severe water scarcity in many arid and semi-arid regions of the world, marked by an increasing demand for water and unprecedented droughts.
The Jordan River basin, a peri-urban regional corridor, is in a particularly waterstressed region with worldwide lows in per capita water availability that is projected to decrease further by 20 percent by 2050.
As the valley's communities, especially smallholders and refugee laborers, will behard hit by the impact of a drying climate, Jordan Valley Authority and Ecopeace Middle East were interested in identifying strategies for water conservation through regional land use and landscape planning. In the absence of fair reallocation mechanisms and regional planning at
the scale of the watershed, a roadmap for
establishing common environmental flows
is infeasible. Rather than offering a utopian
vision for the rehabilitation of Jordan
River, as an addendum to the masterplan
for Jordan Valley Authority, we developed a
synthesis plan for ecological restoration
and avenues for generating water savings
throughout the valley.
This research, conducted with support from the Jordan Valley Authority, Aga Khan Foundation and MIT International Science and Technology Initiative, uses remote sensing imagery and groundtruthing surveys to map the uneven distribution of water access and the risk of climate-induced displacement in Jordan Valley.
1. Normalized difference vegetation index (NDVI) of Jordan Valley
2-4. Context maps—water access along the valley corridor
5-7. Methodology for remote sensing desertification risk
8. Water Conservation Scenario through Land Use Management
9. Water Conservation and Ecosystem Restoration Strategies

Satellite Images obtained through the Planet Application Program Interface: In Space for Life on Earth. San Francisco, CA.